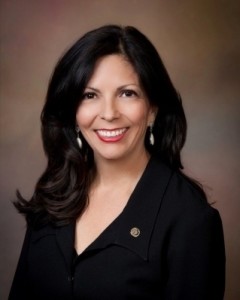 Cynthia Dianne Mares, Esq.
On September 7, 2013, Denver attorney, Cynthia Dianne Mares, was sworn into office as the Hispanic National Bar Association's President-Elect by Colorado Court of Appeals Judge Teresa Fox. In September of 2014, when her term as HNBA president begins after the swearing-in ceremony in Washington D.C., she will be the organization's 37th national president and the 7th Latina lawyer to ever serve in such capacity.
Currently, Ms. Mares serves as the Arapahoe County public trustee, an appointment by Governor Hickenlooper in 2012. Her office handles an annual budget of $1.3 million and oversees funds in excess of $70,000,000 annually. She is the immediate past president of the Colorado Hispanic Bar Association and a member of the American Bar Association's Commission on Interest on Lawyer Trust Accounts.
"I am humbled to have been selected by my colleagues to serve in this capacity for such a powerful organization. The Hispanic National Bar Association is uniquely situated to effect positive change on the Hispanic community and the nation as a whole. As the National Voice of the Hispanic Legal Community, I look forward to not only serving our members, but to continue advocating on issues affecting our community. I am honored to have the opportunity of joining forces with individuals so dedicated the HNBA's mission and to the greater good," said Ms. Mares.
About the Hispanic National Bar Association
The Hispanic National Bar Association (HNBA) is an incorporated, not-for-profit, national membership organization that represents the interests of the more than 100,000 Hispanic attorneys, judges, law professors, legal assistants, and law students in the United States and its territories. From the days of its founding three decades ago, the HNBA has acted as a force for positive change within the legal profession. It does so by encouraging Latino students to choose a career in the law and by prompting their advancement within the profession once they graduate and start practicing. Through a combination of issue advocacy, programmatic activities, networking events and educational conferences, the HNBA has helped generations of lawyers succeed